File and Document Digitisation
File scanning and document scanning is the process of converting physical paper into digital format.
This is done by using a scanner or other digital imaging equipment to create electronic versions of the documents.
The resulting digital files can be stored on a computer or other digital storage device, and can be easily accessed, shared, and backed up.
DatacomIT offers file scanning and document scanning services with over 40 years experience.
Maintaining Paper Files can be a Disaster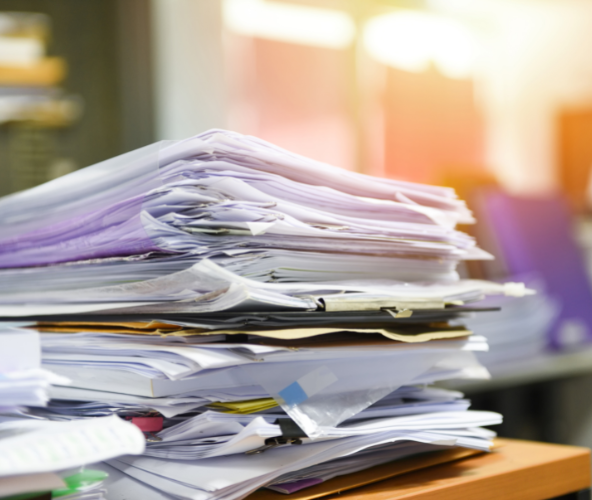 Space: Paper files take up a lot of physical space, which can make it difficult to keep them organized and can lead to clutter in the office.
Accessibility: Paper files can be difficult to access, particularly if they are not well organized, which can make it time-consuming to find the information you need.
Security: Paper files can be vulnerable to damage, loss, or theft, which can make it difficult to protect sensitive or confidential information.
Maintenance: Paper files require regular maintenance, such as dusting, filing and refiling.
Portability: Paper files can be difficult to transport, which can make it difficult to take them with you when you're working on the go.
Preservation: Paper files can be susceptible to damage over time, such as fading, yellowing or tearing, which can make it difficult to preserve the information on them.
Time-consuming: Keeping paper files can be time-consuming and can require a lot of effort to keep them organized, filed, and accessible.
CASE STUDY: University of Divinity Increase Productivity through Digitisation –
Document and File Scanning
The University of Divinity promotes the highest standards of scholarship in theology, philosophy and ministry with eleven Colleges based in Melbourne, Adelaide and Sydney. Through scholarship the University aims to address the issues of the contemporary world. Founded in 1910, as the Melbourne College of Divinity, the University has a long history of pursuing and achieving these aims.
The University of Divinity have been manually recording and storing student information on paper since 1910 which has resulted in a loss of approximately 40sqm of valuable office space and multiple handling of student files which are stored in filing cabinets and compactus located in the office for accessibility. Whilst the records were in a very orderly manner, the time it takes staff to locate and access a particular student record is extremely arduous.
The University of Divinity understood the importance of student records and quick accessibility, therefore approached DatacomIT to improve their current retrieval situation through digitisation.
DatacomIT worked closely with the University to offer a document scanning solution.
Approximately 100 archive boxes with 5,500 student files and 200,000 pages were transported to DatacomIT head office in Melbourne for scanning and digitisation. As part of this process DatacomIT scanned all images from each student file and compiled the images into a single multiple page PDF per student file that was optically character recognised so that the file was text searchable.
The university will look to incorporate the scanned records into their own student administration solution database, however in the interim DatacomIT have provided the university with a single database that enables them to search and locate a particular student file with ease.
The client has expressed their appreciation for the project outcomes by DatacomIT.
"Experience suggests that you should avoid the cheapest quote for the project. So we drilled down carefully into the DatacomIT quote to check for sound process, no hidden extras and quality outcomes. We were delighted to find that not only do they offer value for money, they are transparent, forthcoming, knowledgeable and interested in our individual needs. They were a pleasure to deal with, arriving at meetings on time, checking and re-checking with us on data formats, and providing useful advice on our future data needs. The final cost was exactly as quoted, and we love being able to retrieve historical records without leaving our desks!" Director of Academic Services (University of Divinity)