Suffering from non-integrated systems that operated as part of the "primordial technological ooze" the University of Newcastle needed a single system that would make all their digital collections accessible and easy to engage with online. After an extensive global search, UON selected Recollect to share, manage and grow their historical cultural collections. The Recollect platform allowed for a smooth and easy solution to manage their large digital collections. Recollect has made their material accessible, discoverable and engaging for communities, fellow researchers, partners and future collaborators.
Living Histories @ UON was launched in February 2017 and currently holds the digitised material of the Cultural Collections section of the University Library that includes the Archives and Special Collections. The Archives holds some 2,000 shelf metres of the University Library that includes the Archives and Special Collections. These collections contain a great wealth of untapped information and have an extraordinary range and depth for research and are extremely valuable and unique to Australian libraries.
Over 70,000 historical collection items have been uploaded to Living Histories @ UON
Comments and suggested edits are captured and managed
Diverse media and information are all in the one place
Increased community engagement with their historical collections
Unlimited opportunities for the knowledge to grow
THE CHALLENGE
The Librarians and Archivists were faced with the challenge of making the collections easily accessible and discoverable while recording important information and corrections to enhance knowledge about each item. UON were using a number of image sharing programmes and apps to expand the life of their collections and engage with a variety of people interested in viewing historical collections.
"We previously tried to bring all the digital objects under the one umbrella in a digital repository that was connected to the library catalogue, in order to have the same look and feel, and to improve searchability and findability. Ultimately, this effort was unsuccessful, because the system was inflexible, difficult to use, unattractive, not customisable and it was not easy to establish relationships between data objects."
"For a decade, the Cultural Collections team had been using Flickr for community engagement. This has been successful with over 47 million views. Through Flickr is great for engagement, it only functions for images. We needed a platform that had the engagement of Flickr combines with a DAM (Digital Asset Management) functionality. The team trialled and evaluated a variety of DAMs and while many functioned well as 'containers' few had the level of interactivity we required. Creating awareness and interest in the collections was the main goal for using these formats. Before Recollect we used whatever technologies we could to get the resources out there and to engage with our communities. We had stuff all over the place."
These previous formats not only created a relatively un-searchable collection of resources, but the valuable and interesting comments that were left on each image were lost in the constant stream of releasing new images.
THE SOLUTION
After attempts to find a system that would help grow their knowledge and not just share it, they chose Recollect and Living Histories was born.
"Recollect exceeded our requirements, being highly customisable, easily Google indexed, mobile friendly, using persistent identifiers and supporting a variety of media. It excels at community engagement through user contributions, tagging, curating favourites, commenting and social media integration."
"The team transferred 55,000 images from Flickr as well as thousands of hours of audio-visual material, publications and manuscripts onto Living Histories. They also transferred the comments and tags accompanying the Flickr images which provide contextual, searchable metadata."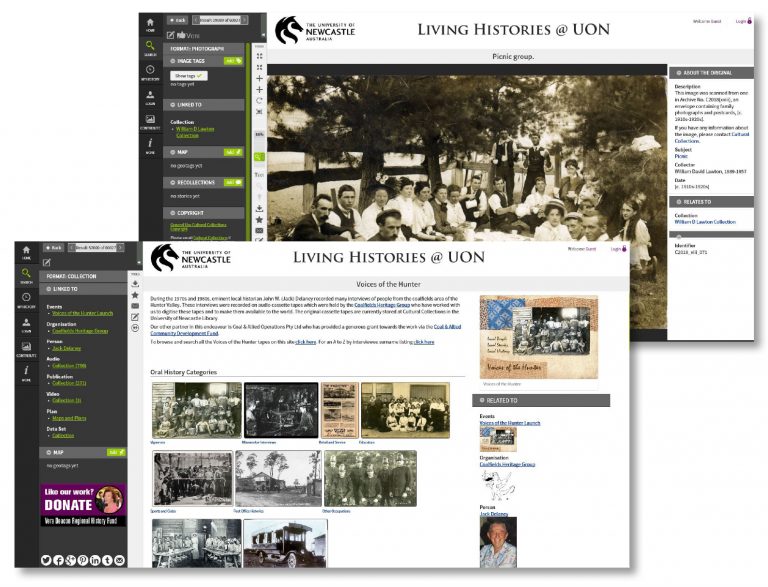 Recollect provides access to all of their digital resources such as images, documents, audio, video and 3D files, presenting all data in the same place which can be searched using a single interface. Plus high levels of community engagement functions and the ability to capture contributions and relationships that enhance the knowledge and information stored within Living Histories.
"We have strong community relationships and the platform allows members of the public and our community "team" to contribute by adding stories and data such as geotags and other tags."
THE SUCCESS
Currently Living Histories has a growing number of over 70,000 items that have been uploaded to the site, including over 60,000 photographs, over 4,900 wine labels, almost 3,300 publications and over 1,000 audio-visual items.
"Living Histories" is the portal through which the public can explore, discover and engage with the University of Newcastle Cultural Collections. Recollect has helped us by providing a configured, hosted platform for storage and worldwide dissemination of UON digital assets and knowledge."
"Recollect allows us to build stories with our content. Each digital item in the system is enriched by connections, such as people and place, which build context around the items. Recollect enables interaction between users and the site content, opening up new and exciting possibilities for sharing content and knowledge."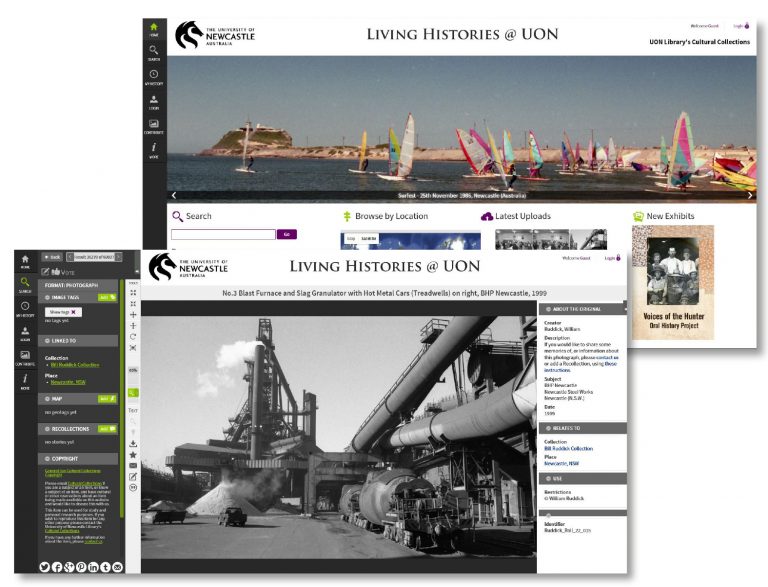 Community Engagement
"We have always had strong relationships with the local communities, historical societies, local historians and member of the public. Users have given feedback about the usefulness of Living Histories for both genealogical research and student assignments in subjects History, Geography, Architecture and Fine Arts. The quality of and breadth of information provided, searchability and ability to download high resolution files make it an invaluable resource for students."
"The Hunter Rainbow History Group has embraced using Recollect as a "Hunter LGBTIQ archive". They are collecting people's memories, photos, audio recordings and news clippings. they say "It's all about keeping Hunter stories close and accessible….". After a little training from the Cultural Collections team, this group can now simply and easily publish their content on the Living Histories site."
Training, Further Opportunities and Diverse uses
Recollect is also being used as a training opportunity for our Work Integrated Learning (WIL) students. This new platform offers great opportunities for students to be given real world experience, working with GLAM professionals to create digital works and publish them. WIL students work with faculty and professional staff on real artefacts, manuscripts, publications, images and audio-visual files and publish the results on Living Histories @ UON, something that has not been possible to any extent before."
THE FUTURE
"The flexible and customisable nature of Recollect means that the Living Histories site can grow and adapt over time to meet new ideas and trends, including further integration with Virtual Reality technologies. We envision that in the future the community of Living Histories contributors will grow exponentially as users discover the interactive features of the site."
Living Histories @ UON has a collaborative approach to sharing knowledge and making more collections accessible. They have and continue to partner with many different groups and individuals to support and display unique collections. Recollect has scooped up the ooze and sculpted it into a format that provides unlimited opportunities for the knowledge to grow and help shape the future.
To find out how Recollect Software can grow your future, contact us for a consultation.